Christmas in Las Vegas is entertaining whether you're a tourist or a local! There are so many things to do both on and off the strip. Here are some exciting events and activities you should check out this year.
Bellagio Conservatory
Enter a world of wonder within the Bellagio. The oversized room is decked floor to ceiling with larger-than-life decorations that will take your breath away. This year, you'll experience a mountainside village, floor-to-ceiling Christmas tree, winter woodland creatures, oversized snowflakes & ornaments, a moving coca-cola train with a POV camera so you can experience riding through the displays on the tracks, and more!
This is a free activity for all ages.
We won't spoil the surprise for you this year, but here's a video from the 2020 display!
Enchant Las Vegas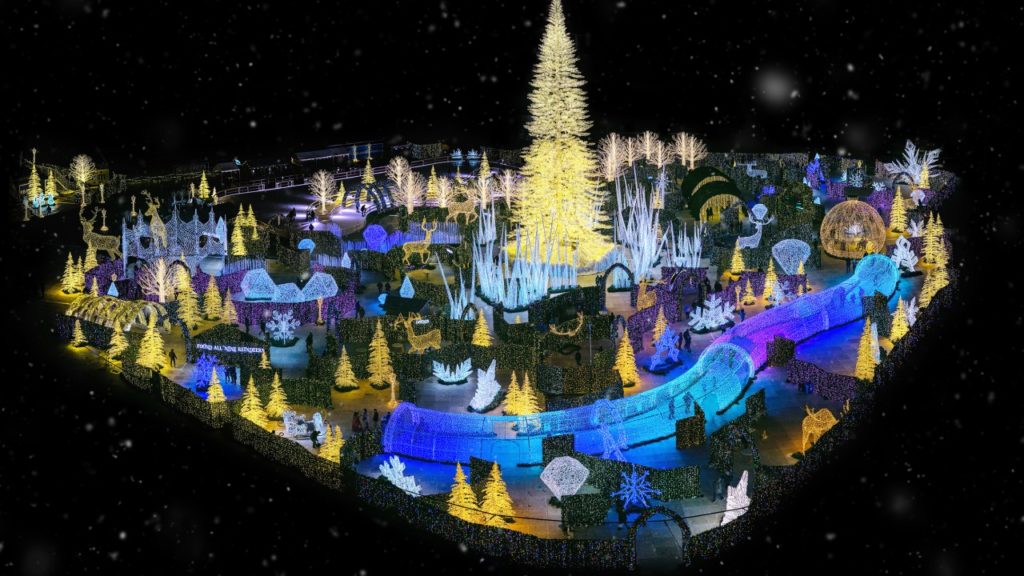 The Las Vegas Ballpark is getting decked in holiday magic. The tale goes that Santa needs help finding nine of his reindeer in the mystical Enchanted forest! You will navigate through the light maze to find the reindeer and save Christmas!
If you want to take your experience to the next level, you can put on some skates and show off your skills in the ice rink!
Hungry? Enjoy gourmet holiday treats at the Enchant Eatery and explore all the shops in the Enchanted Market!
Of course, no Christmas event is complete without a picture with Santa!
When: Nov. 26 – Jan. 2
Cost: Tickets start at $20/person.
Cosmopolitan Ice Rink
Whether you ice skate or not, there's fun for all at the Cosmopolitan Ice Rink! Enjoy holiday movies on the big screen, festive cocktails or even roast marshmallows by the fire!
Be sure to check out their list of special events like Date Skate movie nights, Benny the Ice Skating Dog, Vice on Ice, A Night with the Knights, and a New Year's Eve event with a GREAT view of the fireworks!
When: Varying Dates from Nov. 16 – Jan. 2
Where: 3708 Las Vegas Blvd. S. Level 4, Las Vegas, NV 89109
Price: Varies based on activity. Skating starts at $20/person.
Rock Rink at Downtown Summerlin
Ice skate under the twinkling lights and next to the 40-foot tree at Downtown Summerlin! This 8,000 square foot real-ice skating rink is a favorite for the locals.
A train circles the ice-skating rink with rides for only $4 – a must-do for the littles! Price includes admission for adult and child.
When: Nov. 12. – Jan. 17
Where: 1980 Festival Plaza Dr, Las Vegas, NV 89135
Price: Starting at $16
Boulder City Christmas House
Visit the winners of the Great Christmas Light Fight on ABC from 2016! They go ALL OUT every year with one of the most incredible home light displays you may ever see.
Where: 1215 5th St. in Boulder City
Cost: Free
Ethel M Cactus Garden
Explore 3 acres of cacti & other succulents all decked out for the holiday! There's over 300 species of plants to discover, plus. . . CHOCOLATE at the Ethel M. Factory! Photos with Santa are available, as well until December 23rd.
When: Nov. 5 – Jan 2
Where: 2 Cactus Garden Dr, Hendeson, NV 89014
Cost: $5 per group (of up to 6 people)
Holiday Experience at The Park
Every Friday in December, enjoy the magic of the holiday on The Strip! This includes carolers, pop-up dining experiences, live entertainment and more!
This is a free experience. Price of food, drink & other activities vary based on venue.
Where: The Park is located between Park MGM, New York New York, and the TMobile arena on Park Ave.
Glittering Lights at the Speedway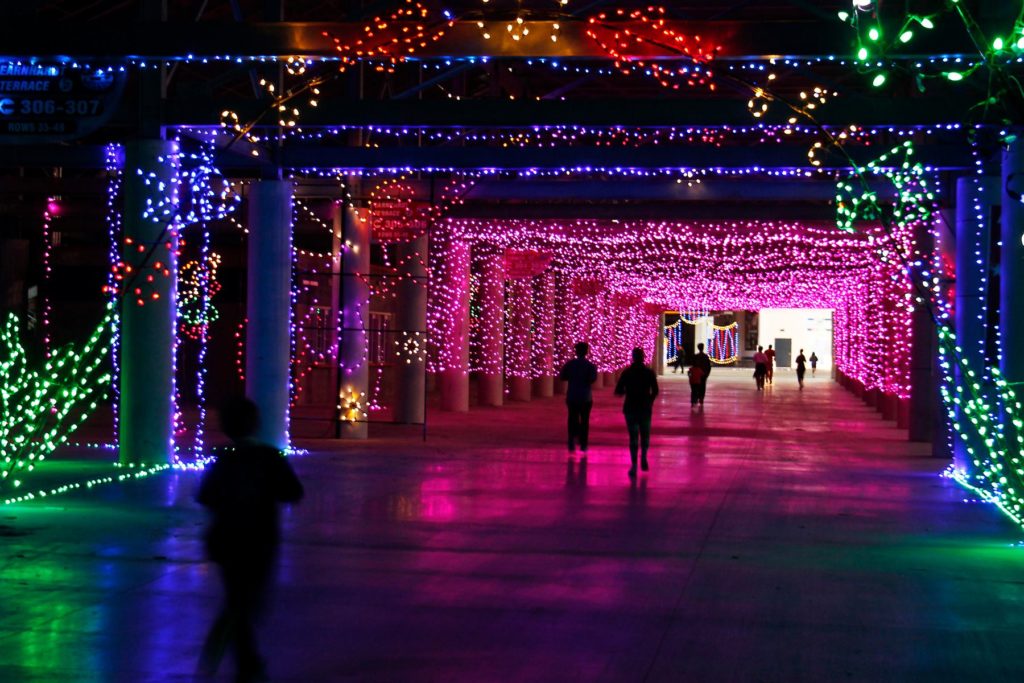 Drive through the 2.5-mile course at the Las Vegas Motor Speeday with millions of twinkling light displays.
Where: 7000 Las Vegas Blvd N. Las Vegas, NV 89115
Price: Varies depending on ticket
Winter Wonderland at the LINQ
Enjoy a new spin on the holiday with the Winter Wonderland at the LINQ, featuring a tubing hill, carolers, and "snow". The High Roller will also feature special Christmas deals and colors!
Where: 3535 S. Las Vegas Blvd, Las Vegas, NV 89109
Holiday Glow @ Fashion Show Mall
On the runway in the Fashion Show Mall, your favorite holiday characters will grace the stage in a musical celebration!
Where: 3200 Las Vegas Blvd. S. Ste. 600, Las Vegas, NV 89109
When: Varying dates from Nov. 26 – Dec 24th @ 11am, 1pm, 3pm & 5pm
Price: Free
Winter Wonderland @ Fashion Show Mall
Enter into an immersive holiday experience with a room full of white trees, ice sculptures, snow & more!
Where: 3200 Las Vegas Blvd. S. Ste. 600, Las Vegas, NV 89109
When: Fridays, Saturdays & Sundays through Dec 24th @ 3 – 7pm.
Cost: Free – but RSVP is required.
City of Henderson Winterfest
This annual event features live music, entertainment, activities for all ages and the Water Street of Lights along the Water Street District.
Every Thursday, cruise down Water Street to enjoy happy hour with festive food & drink specials from 5 – 7pm.
Be sure to check out the Winterfest Live! concerts on December 4th, 11th & 18th!
Boulder City Santa Train
Enjoy a 45-minute night ride on the Boulder City Express where you'll be told the story of Santa!
When you're done, you can join your friends & family for cookies, cocoa and pics with Santa at Santa's Rail Yard!
Price: Starting at $35/person
Where: 601 Yucca Street, Boulder City, NV 89005
Mystic Falls Park Winter Wonderland
Enjoy the wonderland inside Sam's Town all decked out for the holidays! There will be snow AND a laser light show!
Price: Free
Where: 5111 Boulder Highway, Las Vegas, NV 89122
Santa's Wonderland at Bass Pro
Get your FREE photo with Santa, have your kids mail their letter to Santa, visit Santa's toy shop and more!
When: Nov. 6 – Dec. 24
Downtown Summerlin Holiday Parade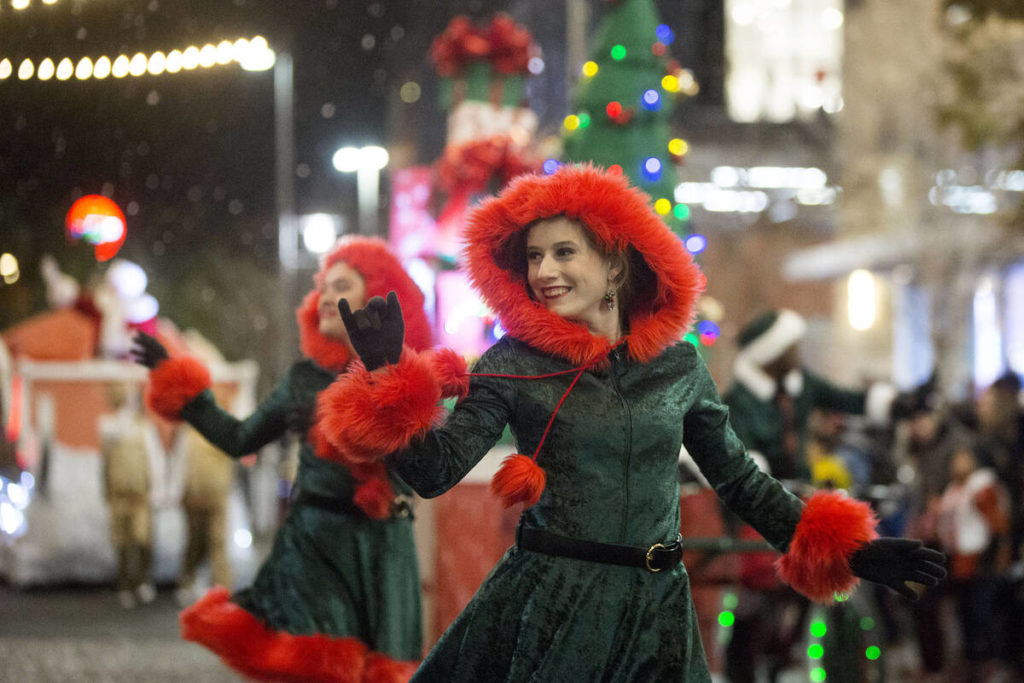 Line up on the streets of Downtown Summerlin as you make way for Santa, his elves and other magical Holiday dancers & characters as they celebrate the Holiday!
Of course, what's a parade without a little snow to make things EXTRA magical!
Be sure to check out the parade dates here.
Price: Free
Where: 1980 Festival Plaza Dr, Las Vegas, NV 89135
Magical Forest at Opportunity Village
Opportunity Village celebrates it's 30th year of the Magical Forest! Enjoy a forest of holiday lights, ride the train, let your kids enjoy the play area, drink hot cocoa, take photos with Santa and more.
When: November 26 – December 27
Price: Starts at $25/person
Festival of Lanterns at Cowabunga Bay
This water park transforms into a winter wonderland with handcrafted Chinese Lanterns and more ways to light up the night.
This is a one of a kind holiday festival you won't want to miss!
Price: Starts at $21.95/person
Where: 900 Galleria Drive, Henderson, NV 89011
Bellagio Fountains with Holiday Music
Enjoy the synchronized dances of the Bellagio water fountains to the tunes of your favorite holiday classics!
Price: Free
Where: 3600 Las Vegas Blvd S, Las Vegas, NV 89109
Miracle on Spring Mountain Pop-Up Bar
This cocktail bar is a pop-up bar on Spring Mountain – Christmas attire highly encouraged (but not mandatory). Enjoy the over-the-top decorations and prepare to bring out your inner elf with the festively themed beverages!
Hungry? They have a pizza menu for you, too!
Be sure to take a look at their special events that will be taking place throughout the holiday season, as well!
Where: 3355 Spring Mountain Rd, Las Vegas, NV 89102 (Sand Dollar Lounge)
Blitzen's Antler Attic
Enjoy the pop-up bar where you can browse their array of decorations, a 90-minute activity table (2-8 guests) where you can decorate an ornament, get a top score at the free to play arcade (air hockey, board games, etc), and more!
When you're done decorating, enjoy some festive cocktails to relax from all that hard decorating work.
Price: Starts at $25/person
When: December 2 – December 23
Where: (Tivoli Village) 420 South Rampart Boulevard #240, Las Vegas, NV 89145
Nevada Ballet Theatre's: The Nutcracker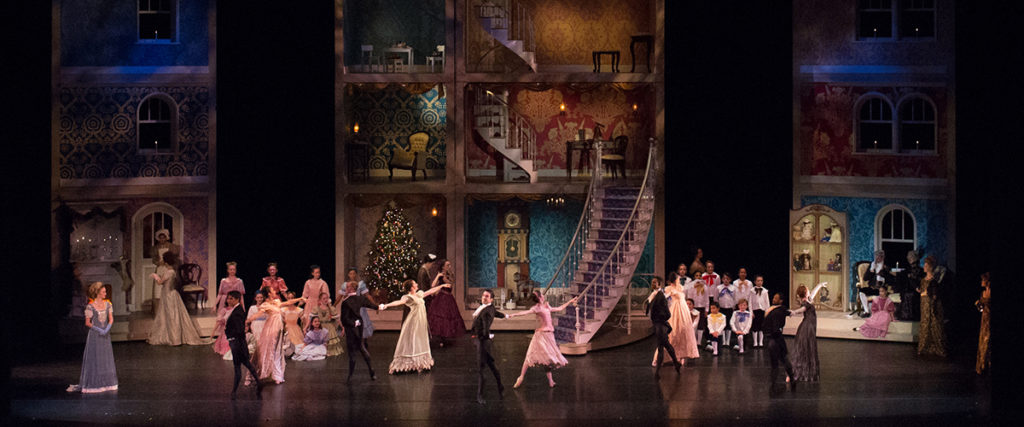 Enhance your holiday season with this traditional, spectacular show put on by the Nevada Ballet Theater. With bigger than life set pieces, magical music, spectacular dancing & more, this is a production that is a must-see at least once.
Price: Starting at $30.95/person
When: Dec 11 – 26
Where: (Reynolds Hall – Smith Center) 361 Symphony Park Ave, Las Vegas, NV 89106
Dingle Bells on Fremont Street
This is a unique Circus show exclusive to the Fremont Street Experience and designed for the entire family!
It features some well-known circus acts from the strip with familiar characters from Alice in Wonderland, The Nutcracker, and more!
Price: Starting at $40/person (Save $15 on children under 10 using the code child, discount for active military using code military, and 65+ discount code senior.
Where: 723 East Fremont St, Las Vegas, NV 89166
When: Varying dates in December
Las Vegas Great Santa Run
Join in on this annual event where you can dress up in a Santa suit and run 1 Mile OR a 5k for a great cause! The run is followed by an after party for all!
When: December 4th in person (Virtual participation December 4th – 26th)
Price: $40 for adults, free for children 3 & under.
Where: 6300 W. Oakey Blvd, Las Vegas, NV 89146 (Opportunity Village/CSN Parking Lot)
Gilcrease Orchard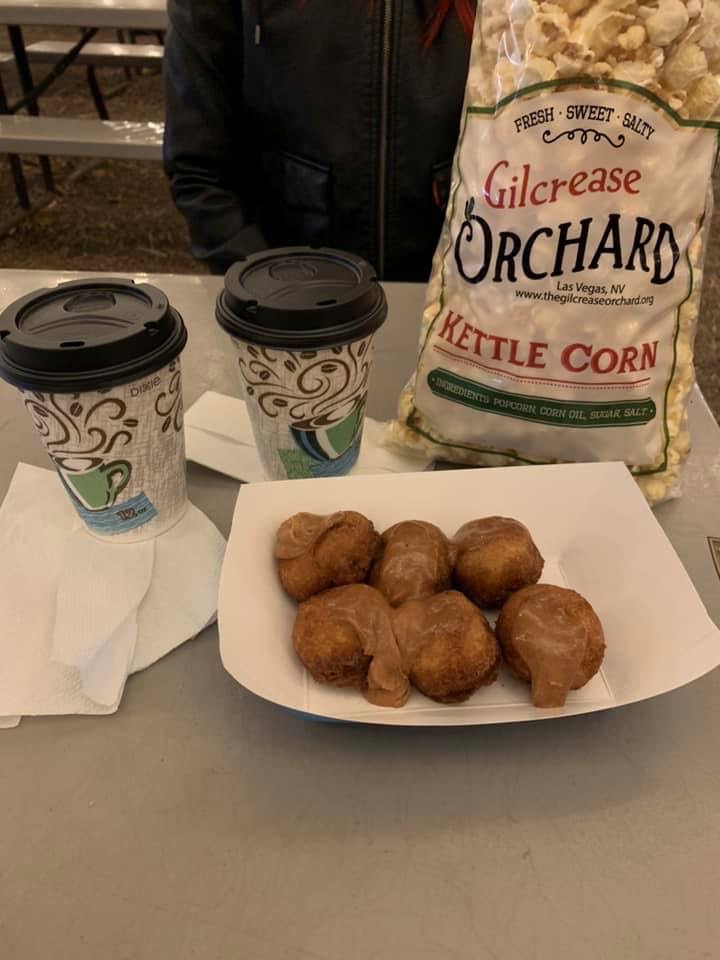 During the day, you can pick out a fresh Christmas , they open up their doors at night for Christmas wagon rides through the orchard lit up with twinkling lights and inflatables of your favorite characters!
Enjoy fresh hot apple cider, apple cider donuts, kettle corn and more!
Where: 7800 N. Tenaya, Las Vegas, NV 89131
Tea with the Grinch
Enjoy tea, toasts, pastries and more, then take a photo with the one and only Grinch!
Price: $49.50/person
When: Varying dates
Where: (Cafe Lola Henderson) 10075 S. Eastern Ave #109, Henderson, NV 89052
Christmas Pub Crawl
Get your Santa sit or ugly sweater ready and join this bar hopping party for a night of festive fun!
When: Dec. 11th from 2pm – 2am (join in ANY time!)
Where: Bar destinations will be announced after ticket purchase
Price: Starting at $5/person
City-Wide Scavenger Hunt
One of Las Vegas's top escape rooms, Once Upon an Escape, is hosting a city-wide scavenger hunt!
Gather up to 6 players for your team and get ready to search for clues all over the city featuring live actors, magical creatures & more! All you need is a car to get around the city, a team name and a team leader! Holiday attire strongly encouraged.
Where: (Once Upon an Escape) 5067 Arville St, Las Vegas, NV 89011
Price: $75 per team
When: Dec. 19th from 2:30 – 4:30pm
Winter Wonderland Beerfest
Enjoy all of your favorite local breweries in your ugliest Christmas sweater (encouraged, but not mandatory). All you can drink tastings of the tastiest beers imaginable.
Additional food available for purchase, as well.
When: Dec. 3rd @ 10pm
Price: Starting at $50/person
Where: 255 E. Flamingo Rd, Las Vegas, NV 89169
4th Annual Christmas Bar Crawl
This is an event benefitting Toys for Tots so you can get your buzz on for a great cause!
When: Dec. 11th from 4pm – 12am
Price: Starting at $15/person (Toy donation required at check in)
Where: (Hennessey's Tavern) 425 E. Fremont St #110, Las Vegas, NV 89101
Mannheim Steamroller Christmas
They're BACK and ready to spread Christmas cheer with their wonderful holiday music. Get your tickets, because this is going to sell FAST!
When: Dec 26th at 7pm
Price: Starting at $35/ticket
Where: (Orleans Arena) 4500 Tropicana Ave, Las Vegas, NV 89103
This blog was created by The Debbie Zois Team. If you need help buying or selling a house in Las Vegas or surrounding areas, contact us at (702) 838-7700 or info@lasvegashomessold.com.
*This information is up to date as of December 13, 2019